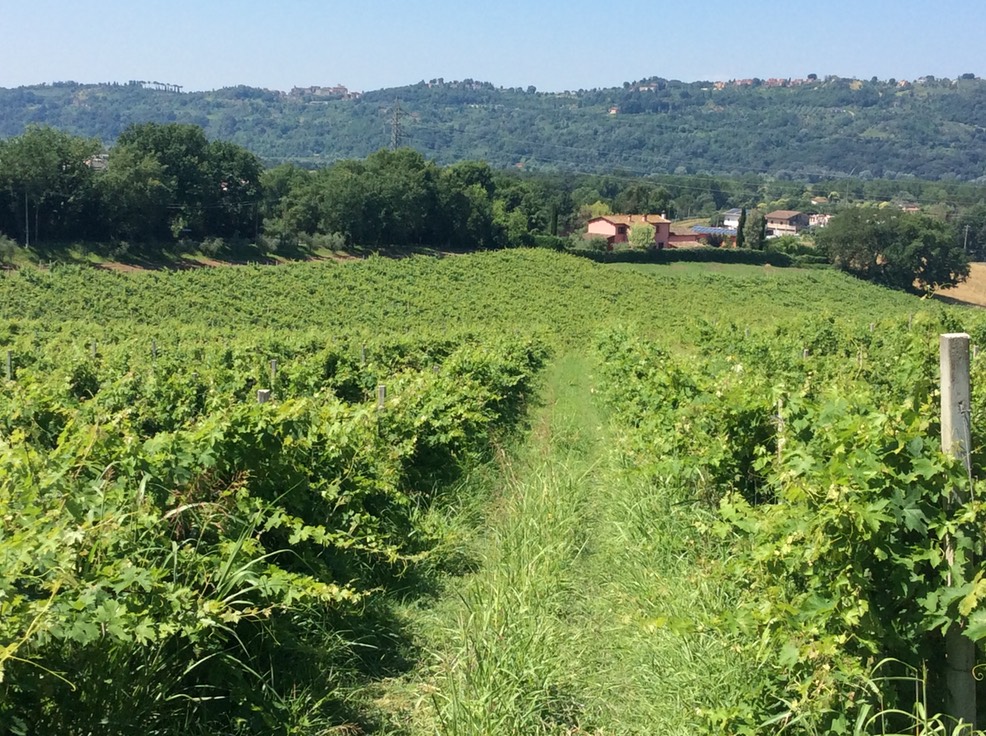 A perfect day trip from Rome: a wine tour in the Roman countryside
Just 30 miles north of Rome, the Roman countryside is Central Italy's best kept secret. More rural and densely green than Tuscany, it is also a lot less tourist-plundered. It has vineyards, olive groves and picturesque medieval hilltop stone villages; but more than anything, the Roman countryside have small, authentic wine producers that are passionate and dedicated to quality. Its fields and vineyards have earned it the label 'paradiso enogastronomico' (food and wine paradise). This is why  the Roman countryside is the ideal location for your wine tour near Rome.
The beautiful rolling hills we visit during your Rome Wine Tour are always patchworked in wonderful 'renaissance' green colours. Hills are laced with narrow white tracks and roads that loop like spaghetti, reaching villages and hamlets that cluster on the hilltops. Wheat fields are strewn with poppies, and slopes are neatly planted with groves of olive trees and vineyards. Wild greens are collected in a countryside ritual, with the most tender shoots eaten as salad. In winter and early spring fruit trees are bursting with the sweetest oranges, apples and pears of all different shapes and sizes. June is the month for cherries, beautifully dark red and very sweet. In summer and until autumn, you'll see peaches, apricots and fresh figs everywhere. September is when the vines are heavy with deep red and golden green grapes just ready to be picked.
Wine (along with olive oil) remains an important economic resource due to high quality single-estate wines that are very well balanced in flavour and extra smooth and rich. Every village grocer has its own cured meats and salami counter. Box wood crates of locally picked grapes, from dark purple to golden yellow in colour, are transported to the cellars just after vintage: this is where wine alchemy happens.
The Roman countryside is truly a magical land of panoramic views across its valleys, olive groves and vineyards, fields of sunflowers and wild Mediterranean herbs, medieval hilltop villages, castles, and majestic Roman ruins set in wild nature.
Step into the romance of an untouched countryside.
Most of the medieval hilltop villages we pass during your Rome wine tour were built as early as 900 AD. The landscape here is quintessentially Italian and the soil is fertile and partly volcanic, which makes the wines produced here so wonderful. 
View from our Family home terrace
While sampling more wines from the Rome wine region you will enjoy amazing views over medieval villages, olive groves, rolling hills and family vineyards. The second stop of your Rome Wine Tour is more informal and personal, and where you will not only  have the opportunity to visit our family home and enjoy the remarkable views from our terrace, but you will also have the opportunity to talk about the local italian history, culture, food, and of course the local wines. This is a great chance to learn more about authentic Italy, in an Italian family setting.